See that yellow 'safety cap'? It has caused me no end of grief. It's the bottle cap for the new brand of dishwasher detergent we use.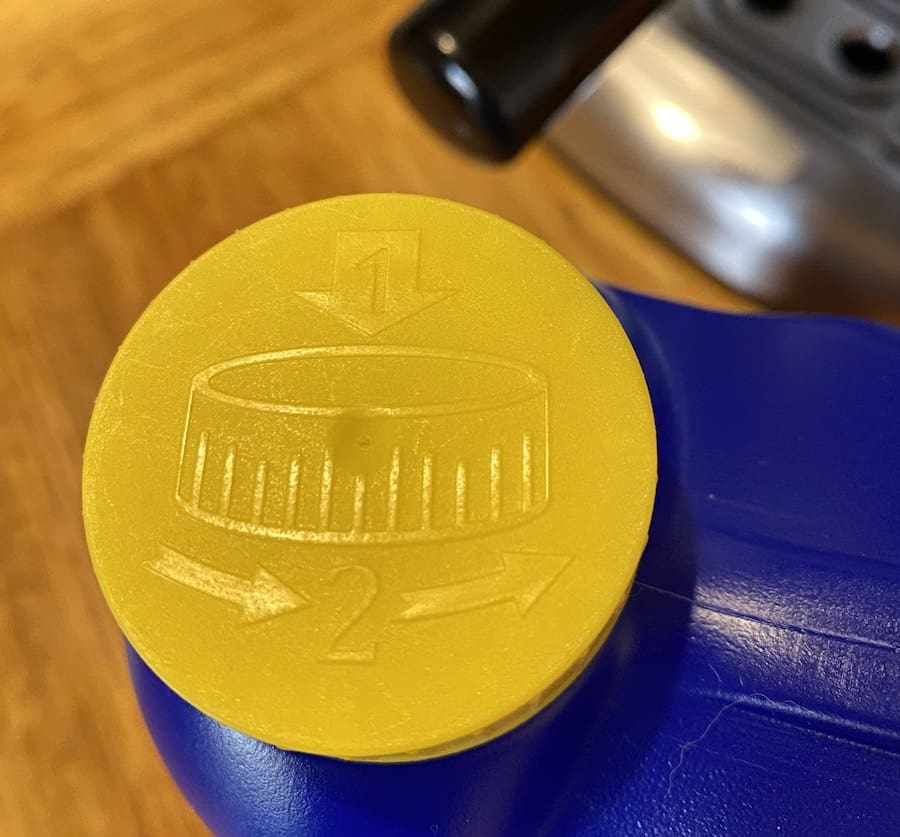 For years I've been opening the bottle by squeezing the sides and turning – that unlocks the safety mechanism and we're in business. Look at the lid: it's obviously squeeze and turn, right?
Not working.
Repeat. Still not working.
Squeeze harder, till your fingers hurt. Go red in the face. Yell at it.
Nope.
Every night it's the same thing – I've been going through my own 'personal Vietnam', wrestling with this thing, for weeks now.
Finally: I've had enough – I can't get this thing open. "Honey – don't buy that brand anymore, the stupid safety lid is cheap and nasty."
Calmly, she takes it from me, PUSHES DOWN on the lid, and turns. Presto.
You can see where I'm going with this: I struggled with this stupid thing for ages. It was making me miserable. But at no point in my struggle did it occur to me I might not be doing it right.
Psychiatrists call them assumptions, limiting beliefs, unquestioned notions, uninterrogated preconceptions. Whatever they're called, though, when things aren't working right, looking within at our mindset is not generally our 'go-to' solution.
Do you ever feel that – in your financial planning business — you're squeezing and going the wrong way?
Rebooting your mindset is a key to high performance. So says Vanessa Bennett, Founder ofNext Evolution Performance and a thought leader on the subject of energy management for high performance. Vanessa brings strategies firmly backed by neuro-science and principles of psychology to generate a mindset that literally creates energy for you so you can return to the right path.
Vanessa is one of three thought leaders speaking on her subject of expertise next week, in 'Reboot Camp'. Brought to you by The Profession of Independent Financial Advisers, this online event will explore essential strategies and tools you can use to propel you towards where you want to be in this, your profession.
29 May 12.00 AEST. Spaces are limited, to register CLICK HERE.